Resume
A resume is your first impression when you apply for a job. In this tutorial, you will learn how to write resume professionally and make it presentable and ready to apply for jobs.
Remember, a resume should be to the point and crispy. It should not contain irrelevant or jargon details which cause boredom to the reader. A recruiter should feel comfortable and easy while reading your resume. Hence, in this tutorial we will give you useful tips about how to write resume.
Resume is first contact and a way of communication among company and applicant. It presents your achievements, work experience, educational background, certifications, skills, and other valuable information to the recruiter. Resume is brief summary and to the point. Mostly specific for a job. It is a representation of yourself before you physically meet recruiter.
CV, also stands for curriculum vitae, is also interchangeably used for resume. However, it is more detailed, covering everything about you, mostly not a job-specific application.
Resume is your first impression in front of recruiter. It reaches in hands of recruiter before you physically meet him, hence, it represents your thoughts, style, presentation style and predicts many things about you. The recruiter develops perceptions about you and decides either you should be called for an interview or not.
Following are the steps you should follow to write resume. These steps will definitely make improvements.
Choose Right Format
Choosing right format to write resume is important. Format of any document makes it easy or difficult to read. If you will arrange data on paper in rough format, it will become difficult to read. To make it easier to read, you should use standard formats. Regular and standard formats are used by many applicants, making it easier for the recruiter to overview. Some standard formats are:
Functional Format
Pros
Functional format is good for beginners and freshies to apply for entry-level jobs. Skills are focused and emphasized in functional format instead of experience because freshies may not have experience.
Cons
If education is not specified year-wise, recruiter may think you are trying to hide something.
Combination Format
Pros
Skills are highlighted in this format resulting in best choice for experienced professionals.
Cons
This format should not be adopted if you are a fresh guy and applying for job first time. It is not common, hence, a recruiter will not spend more time on you.
Reverse Chronological Format
Pros
It is familiar to most of the employers and recruiters. It is a commonly used and traditional style.
Cons
It is less creative due to commonly used style. Thus sometimes showing casual interest in the job.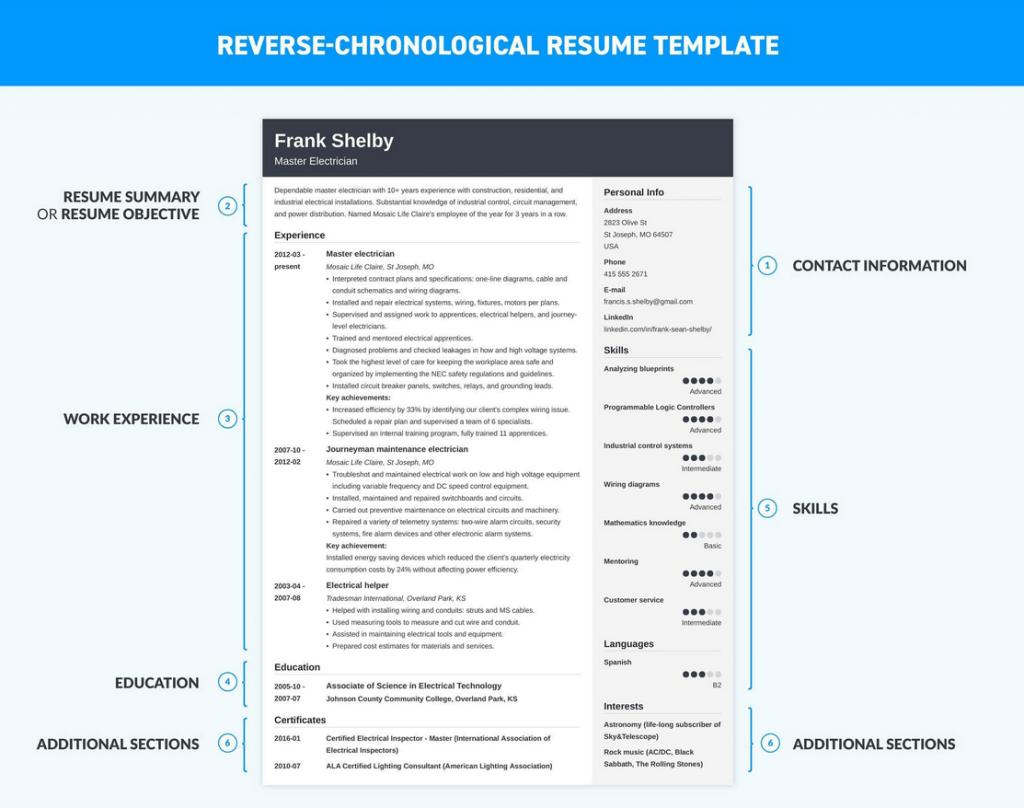 Add Personal and Contact Details
Personal information and contact details help the recruiter to know your name and contact information so that he may create a friendly environment if you are called for an interview.
Some of the information is necessary and other is optional.
Contact Information You Must Mention
You must include your name, phone number, and email address. You should not only mention them but keep an eye on email and phone because you can be contacted anytime via email or phone or both. Try to use your personal phone number instead of a business or home phone. Similarly, use the email address which you keep checking.
Optional Contact Information
Information like your blog address, website, mailing address, title, social media like facebook, twitter, LinkedIn URL etc., are optional. However, Linkedin has become a popular platform for professionals where they endorse each other. Therefore, I will recommend you to add Linkedin URL. Similarly, if you are applying for computer science-related jobs or software engineering jobs, I will recommend you to share your Github link, Stackoverflow link etc.
Information like photos, date-of-birth, secondary phone or email is not required. These should be avoided. However, you may mention the date of birth only if the employer has asked about it. Similarly, a photo can be added if the employer has asked about it.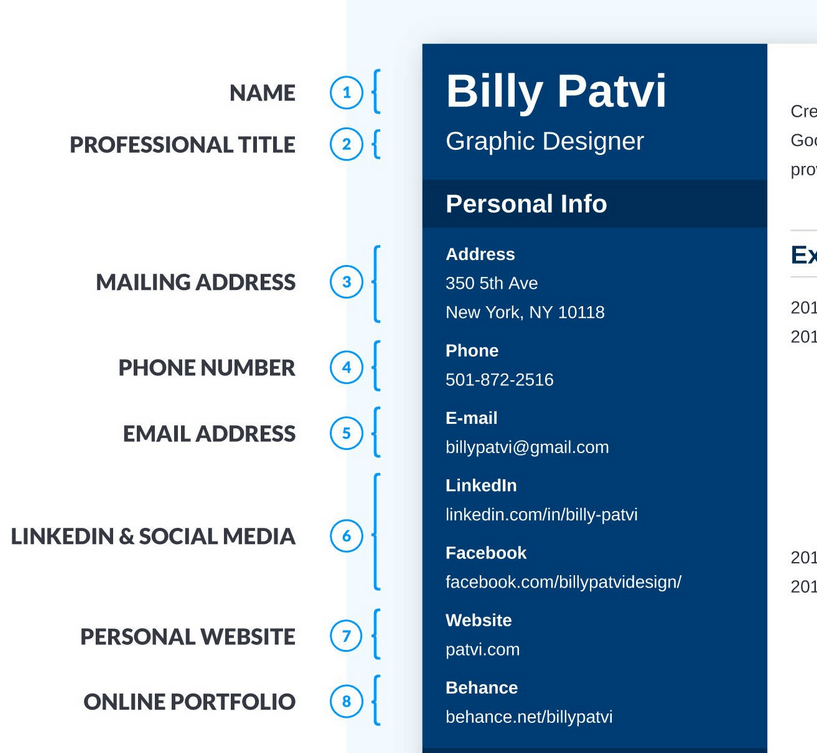 Resume Objective or Summary
An object or summary is first heading in resume. According to TheLadders survey, Employers and recruiters give 6 seconds average to scan a resume before going in details. Hence, summary or objective statement must be smart, attractive, precise and highlighting.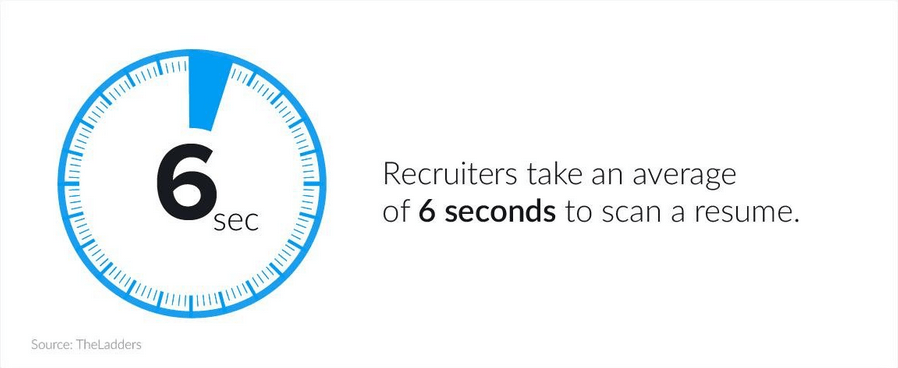 The objective statement should not be out of the world. It should not be something like "I will make your company the world's best.". It should be about you. Mention your experience, your quality and something reasonable and real about why do you seek this position.
Work Experience and Achievements
If you are experienced, it is the best choice to put your work experience, background, employer's name, responsibilities, achievements and position on resume. It will not only improve your resume, but also help employer to decide whether he should choose you or someone else.
Similarly, achievements are good to inspire and decorate your resume. It would be great if you mention professional achievements rather mentioning something like "You won a cup in a football match". Such statement will not improve resume but tells the recruiter about how immature you think.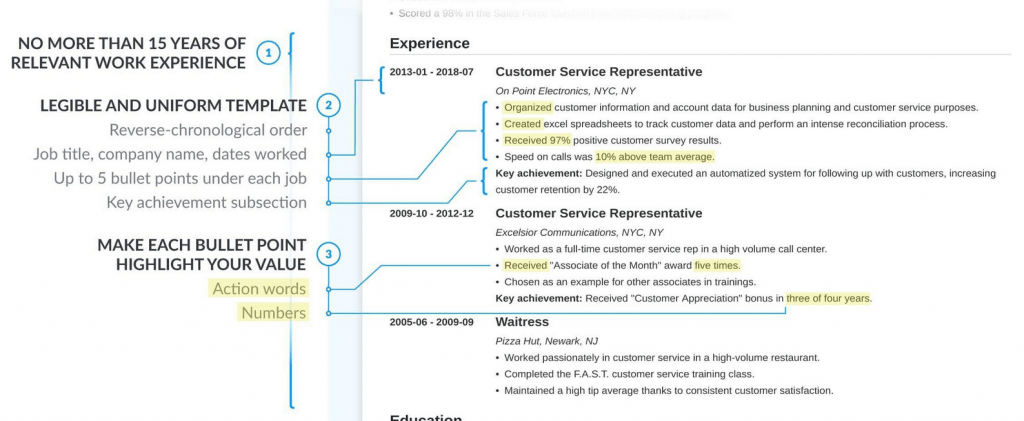 Education
Education is a required section of resume. You must mention university/institution/college/school name, year of completion (if not completed, mention expected date of completion), key accomplishments if any, CGPA (only if good, otherwise you may skip for the time).
Skills
For any kind of job skills like language proficiency and communication are required. If you are applying for a technical job, you may have many other skills. It is always good idea to mention and rate your skills. You may rate skills according to scale like score yourself out of 5 or classify yourself as beginner, intermediate or expert. Skills may include communication skills, management skills, leadership skills, programming skills, computer skills, typing skills, analytical skills, organizational skills, problem-solving skills etc.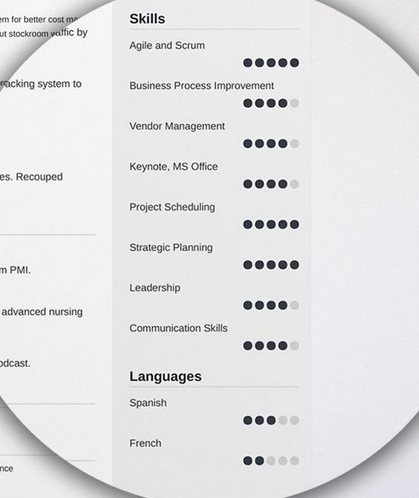 Some Important Sections
These sections are not applicable to everyone but if you find suitable for any, you may add.
Publications and Books
If you have written journals, publications, articles or books, you would like to mention them.
Certifications and Awards
If you have been given an award or you are certified or both, you may mention them.
Languages Proficiency
If you are applying for position of translator or your position demands multiple languages proficiency, you may mention them and rate proficiency level as native, professional fluency, normal, beginner.
Hobbies and Interests
I will not recommend adding hobbies and interests in resume until you are applying for a position which requires them. For example, if you are applying for a position of Software Engineer, no one is going to read either you play cricket or not.
Volunteer Work
You may mention work done by you voluntarily. But it must be something valuable.
Solicited letter of application
Solicited letter of application is written in response to an ad from the employer.
Unsolicited letter of application
Unsolicited letter of application is written for a job which has not been advertised by the employer. It is a type of sales letter. A sales letter is through which a candidate tries to sell his services, knowledge, experience, training, skill and personality.
Cover Letter
It is always a good idea to attach a cover letter to make employers believe about your interest in current position. In cover letter, you may brief recruiter.
Definition
A job letter along with resume is called a covering letter.
Resume, Bio-Data or CV
It is an organized summary of the applicant's background. It includes the name, address, qualification and experience of the candidate. It also includes two or three references of the persons known to the applicant.

Tips to write a job application letter or covering letter
A job application letter should be sent with your resume when you are applying for jobs. Your resume gives the information of history of your work, experience, skills and achievements.
 It should not be too long. It may be medium in length.
At the beginning of letter, you should explain how you have got the knowledge of the vacancy you are applying for.
Requirements of the job should be clearly indicated.
The education, training and experience of the applicant should be carefully explained.
The candidate should indicate in his letter why he is suitable person for the post for which he is applying.
Do not mention that you are applying for this job because you are dissatisfied with your present one.
If you are already in job, you will have to give reasons for the change. You may mention the larger chances of promotion, higher salary and specialty that you will be able to get in the new job.
You should not mention anything which defames your present employer. You should not state any personal grievances in your application.
Enclose attested copies of required documents along with your application.
A standard structure of letter may consist of three paragraphs. In first paragraph, state how you have learned about the post and why you are qualified for it. In second paragraph, you should state your experiences and achievements closely related to the needs of the employer. The third paragraph closes the letter describing what the next step should be. Close your letter with a request for interview.
Cover Letter Parts
Cover letter consists of the following parts:
The address of the writer
The date of writing
The name and address of the employer
Subject
Salutation
Opening paragraph
Body
concluding paragraph
subscription/closing
Signature
Conclusion
In this article, we have covered how to write resume. Now we believe that you can write your resume without any issue and our aim to teach you about how to write resume has been completed. If you have any question regarding how to write resume, feel free to ask in comments.
__________
Keywords:
 Computer Science Resume
 Cyber Security Resume
 Data Analyst Resume
 Data Scientist Resume
 Digital Marketing Resume
 Elon Must Resume
 Entry Level Software Engineer Resume
 Financial Advisor Resume
 Freelance Writer Resume
 Front End Developer Resume
 Full Stack Developer Resume
 Graphic Design Resume
 High School Teacher Resume
 How to add a resume to LinkedIn
 IT Support Resume
 Lab Assistant Resume
 Manufacturing Engineer Resume
 MBA Resume
 Picture on resume
 Scrum Master Resume
 Social Media Manager Resume
 UI Developer Resume
 UX Designer Resume
 Web Designer Resume
 Web Developer Resume